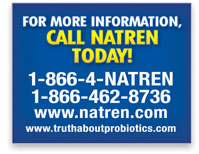 We have known for centuries that a healthy mother is more likely to deliver a healthy baby. In addition to eating right, exercising, taking vitamins, refraining from smoking or drinking, and receiving adequate prenatal care, pregnant women, as well as nursing mothers and infants, benefit from probiotic supplements, like Natren LIFE START and LIFE START 2.
Healthy infants and young children, whose immune systems are not fully developed, benefit from digestive support in the form of a specific species of beneficial bacteria called Bifidobacterium infantis.*

The human GI tract represents 70-80% of the immune system, and this specific species of beneficial bacteria can provide health benefits in a baby's first years of life.*
"Parents of children, especially young infants, and their doctors may need to be mindful to continually add a baby-specific strain of healthy bacteria for the digestive tract of infants and young children," says Natasha Trenev, founder of Natren® and maker of LIFE START® and LIFE START® 2 probiotics. Natasha, a world authority on probiotics and digestive health says, "Put the healthy bacteria back in our children."*




We get many questions at Natren asking if LIFE START and LIFE START 2 are both suitable for infant and baby use. The answer is, YES, absolutely! LIFE START 2 can be given to pregnant or nursing moms and their babies, as well as adults. The difference between the two formulas is that LIFE START is grown in a cow's milk base, whereas LIFE START 2 is grown in a goat's milk base — they both contain the exact same super strain of beneficial bacteria.
LIFE START or LIFE START 2 can be added to infant formula or other beverages or gently stirred into room-temperature foods. To find out more about LIFE START, visit www.natren.com or www.truthaboutprobiotics.com.


"For infants, the introduction of food other than breast milk may be a reason for digestive irregularities, correlated with a shift in the healthy bacteria in the child's intestinal tract.* This is an especially important time to employ LIFE START or LIFE START 2, our specially-formulated, unique source of Bifidobacterium infantis, NLS super strain," says Natasha Trenev.* Later on, once toddlers begin eating table foods, it would be time to introduce Natren HEALTHY START SYSTEM®, in addition to Natren LIFE START and LIFE START 2.
Bifidobacteria infantis, NLS super strain, is natural beneficial bacteria, that helps to maintain beneficial intestinal flora which should be continually replaced.* "It is especially important to promote this beneficial bacteria when medications are used, when babies are born by Cesarean delivery, when there are other disruptions during pregnancy, when traveling (especially overseas), when children receive immunizations, when occasional irregularities arise, or when children are weaned from breast milk," says Trenev.
The beneficial bacteria found in LIFE START can also be helpful for adults battling occasional indigestion or needing immune system support.* In this day and age, with frequent exposure to pesticides and chemicals in our food supply, our bodies can react negatively. It is advisable to supplement with either LIFE START or LIFE START 2 (with Bifidobacterium infantis NLS, grown in goat's milk).


EMPLOYEE FEATURE: Natren Employee, Ruth Bryan, says, "I can give you a personal testimonial. I have given Life Start to my baby girl from day-one and at 5 months, she is thriving. I just add a 1/4 teaspoon to her last bottle of the day. I do notice that if she misses a day, she is cranky. Since she is now trying to eat baby food, I have been gently mixing LIFE START into that."

PICTURED ABOVE: A healthy and happy Zoey with her big sister Eva.

Caution: Milk Allergies? Both LIFE START and LIFE START 2 contain dairy. Please consult your physician before using. For a completely dairy free probiotic, try Natren BIFIDO FACTOR® (dairy free formula).
About Natren: Probiotics are ALL we do. Our beneficial bacteria super strains are researched, formulated & manufactured in our cGMP facility in Westlake Village, California and cold-pack shipped for guaranteed 100% potency through expiration date. Natren probiotics include products suitable for lactose intolerant, vegan or gluten-free diets.* For 30 years -- Serious Probiotics for people who take their health seriously.