Welcome to the summer travel season! If you're like most of us, you have plans to pile into the car with the family or jump on a plane for a vacation somewhere exciting or exotic. Or you may be a veteran business traveler who knows all the ins and outs of every airport in the country, but still experiences digestive discomfort on the road.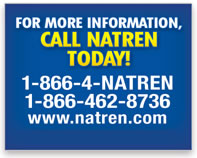 chef, you can be pretty sure that everything you order will have been processed in some way. This is why it's actually easier to travel to somewhere like Thailand or India and eat off a street vendor's cart. At least you get fresh, unprocessed food!
In many chain or "family" restaurants you can be pretty much guaranteed t

Unfortunately, tummy upset often goes hand-in-hand with travel. Here are some tips that may make your vacation enjoyable.
HOW TO CARRY YOUR NATREN
PROBIOTICS WHEN YOU TRAVEL
Consider starting your probiotic regimen a week or two before you travel if you don't take them on an ongoing basis.
Probiotics must be refrigerated in order to remain viable. When you're traveling, treat your probiotics as you would treat a fresh dairy product. It's not complicated, we promise!
1. Wrap the bottle in several layers of aluminum foil and place in a sealable plastic bag to protect against moisture and light.
2. Place it in an insulated bag (like a lunch bag) with a cold pack.
3. Refrigerate it immediately upon arrival at your destination or keep it in a cool dark place in a closet or near an AC unit and replenish the cold packing daily.
4. Have fun, secure in the knowledge that you are taking the best probiotics available!
ONCE YOU'RE THERE
Natren products are serious probiotics for people who take their health seriously.
Natren probiotics may help support:

hat everything comes out of a box, a bag, or was treated with tenderizers, preservatives, MSG, artificial flavor enhancers, etc.
You may be able to handle one or two meals like this, but not only are you risking triggering tummy troubles, who wants to eat crummy food like that anyway?
The easiest way around this is to always book accommodation with a kitchen. Locate the organic grocery stores in the area before you leave home and go do your shopping the day (or second day) you arrive. Items you should bring from home: spices, salt, pepper, tea and cooking oil.
also crucial to maintaining your health, especially on the road. What you need to bring to ensure a good night's sleep will depend on your current state of health and whether you're a light or deep sleeper.
If your health is fairly poor, then you may want to consider bringing all your own bedding – mattress pad, sheets, pillow, quilt, etc. Hotel laundering uses a lot of chemicals, so you'll want to avoid inhaling these while you sleep. You should also bring a towel or two for the same reason. If you're going for two weeks or
√ Digestion of carbohydrates and proteins*
√ Relief from occasional gas and constipation*
√ General wellness*
You'll also want to take along Natren's GASTRO-pH chewable wafers to help with occasional tummy upsets. GASTRO-pH are available in two all-natural, tasty flavors, Strawberry and Orange.
LOOK FOR THE HEALTHIEST
FOOD POSSIBLE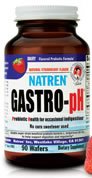 more, then also bring an extra set of sheets and pillowcases so you can freshen your bed, or in case something spills on it.
If you're a light sleeper and you're travelling with your family, then seriously consider booking a separate room for yourself. Remember, if you get sick, no one's going to enjoy the holiday.

Bring your own pillow, if possible. The more familiarity, the less stress and the better you'll sleep. Hotel pillows are just disgusting, anyway, and you don't want toxins right in your face as you sleep! Bring pillows for the kids, too, and your own 100% cotton sheets. There's nothing
When travelling in North America, unless you're eating in an upscale restaurant with an actual

worse than sleeping on polyester, especially in hot weather.