Even if you've never heard of Natasha Trenev, chances are you or someone you know has benefitted from her work. Natasha Trenev is a world-recognized self taught microbiologist, developmental scientist, researcher, health activist, consultant, author and businesswoman, best known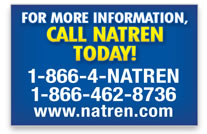 Natasha has been researching the effects of beneficial bacteria and transferring that learning into new probiotic supplements and technology for more than 35 years now. She is also known for her innovative Trenev Process, in which a unique oil matrix delivery system micro-enrobes bacteria strains in special sunflower oil to



for her groundbreaking work in the field of probiotics. As a matter of fact, it was Natasha who first introduced the term "probiotics" to the natural foods industry in North America.
Natasha came from a wealthy and successful Yugoslavian family with a centuries old history of making the finest cultured milk products - so fine that they were designated the direct yogurt supplier to the royal court of King Peter II. But the Second World War drastically changed the family fortunes after the Axis powers brought down the monarchy in 1941, and in time they were forced to flee Yugoslavia.
The family immigrated to the U.S in 1955, eventually ending up in California with $100 and no prospects. Natasha's father sent to their homeland for a yogurt starter culture from the family's famous Bulgarian style yogurt; rented a small ice cream plant, and founded Continental Culture Specialists.
After Natasha graduated from UCLA in 1970, her father convinced her to help build the family business. Determined to educate the American public about the existence and benefits of good quality yogurt and liquid acidophilus (not yet familiar concepts) she grew the company 40 times over during the next 4 years, even making regular shipments to Buckingham Palace.
But her real passion was research, and she left the family business in 1974 to pursue it. Natasha was fascinated by not just acidophilus, but all the beneficial bacterial organisms important to and needed by our bodies. "It's incredible to know that we are 90 percent bacterial cells," she once said in an interview, "and only 10% human cells. We have approximately 100 trillion microorganisms that line the 27 feet of our gastrointestinal tract."
In 1982, she founded Natren with her husband, Yordan Trenev. After a decade of research, she had developed a revolutionary method of producing an effective and scientifically validated single live probiotic bacteria strain product.


ensure the quality and potency of the live bacteria in Natren probiotic products during their passage through harsh stomach acids.
Her efforts have led to the establishment of the entire probiotics supplements category, not just in North America, but also in Australia, England, Holland and Belgium. When research scientists and medical schools want accurate and up-to-date information on probiotics, they turn to Natasha and Natasha's reference library – notably the books and scientific articles she herself researched and authored.
She often lectures and appears on television and radio to speak about the science and benefits of probiotics and live bacteria. Her work is so respected that her 1995 probiotic product production standards were read into the U.S. congressional record, and are currently cited by many as the probiotics industry standard. She was invited to speak about probiotic benefits at the world Health Organization Congress of Health in Adelaide, Australia.
Making the best probiotic supplements in the world for people to get healthy and to stay healthy is Natasha's way of serving humanity. Natren's high standards and integrity have led to its custom probiotic supplements being recommended by doctors across the country, including Cedars Sinai Medical Center.