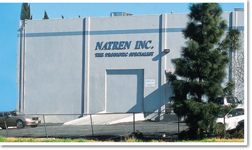 In the 1980's Natren formulated a unique and powerful probiotic product, later producing it in a state-ofthe- art pharmaceutical grade facility. My husband, Yordan Trenev, and I did this because we were convinced that probiotics are the most important health concept of the 21st century. Natren is an innovator whose mission is to provide unique and valuable probiotic products to benefit the health of as many people as possible.
We are thrilled to see science catching up to our original theories – that the intestinal tract is related to all health aspects of our body. I am happy to report a flurry of recent studies about a very important concept – the gut brain axis - focused on exploring the previously overlooked and surprisingly strong connection between our gut and our brain.

I am very excited to announce that I have been asked to be a guest speaker on the power of probiotics at the Brain Solutions 2013 conference on brain health and mental excellence in Vancouver, BC, Canada, along with seven other incredible speakers. The speaker's panel also features best-selling author and television personality Dr. Daniel Amen. I am honored by this opportunity to continue to educate others about the importance of probiotics for our physical and mental health.