What should you as a concerned consumer look for in a probiotic supplement? Here are some important guidelines:
PROVEN STRAINS
There is no "one size fits al" in the world of probiotics. Different strains have different benefits, and some strains have little or no benefit at all. Natren uses only proven probiotic strains understood to convey specific benefits.
SEPARATED STRAINS
Live bacteria are competitive by nature, and will fight to crowd each other out if they come into contact. That's why Natren developed a proprietary protective oil matrix delivery system to keep the bacteria in its multi-strain products isolated to ensure survivability.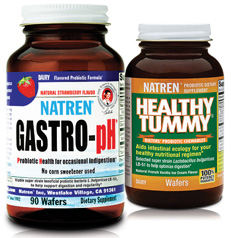 PROTECTIVE PACKAGING
Bear in mind that probiotics are (or should be!) live bacteria. These live bacteria are very sensitive to light and moisture, and must be kept in protective packaging. This is why Natren packages their probiotics in protective dark-colored glass bottles with moisture-resistant tin lids.


REFRIGERATION
Live bacteria must also be protected from heat. Natren takes great care to refrigerate their probiotics throughout storage and transportation, and insists all retailers keep them refrigerated until they are sold to the consumer.
SURVIVABILITY THROUGH THE DIGESTIVE TRACT
The live beneficial bacteria must travel through the harsh acidic conditions of the stomach to reach and colonize the intestinal tract. Natren starts with naturally bile resistant strains, and micro-enrobes each strain in its protective oil matrix delivery system to ensure the probiotics survive the challenging journey to the intestinal tract.
GUARANTEED POTENCY
A probiotic's potency should be guaranteed until the expiry time on the label, NOT at the time of manufacture. Natren guarantees that if correctly handled, our probiotic products contain the viable colony forming units (CFU) of each strain stated on the label, all the way through to the expiration date.
INDEPENDENT THIRD PARTY
VERIFICATION
There are no mandated verification standards for probiotics, so Natren has put in place a testing program compliant with the standards set by the Pharmaceutical Inspection Convention (PIC) and audited by the TGA - an international government agency that ensures compliance with the FDA's current Good Manufacturing Practices (cGMP). In addition, Health Canada randomly tests Natren probiotics for potency verification.