With so much focus on keeping our hearts, brains, and other organs healthy, let's not forget about the importance of caring for the largest organ in the human body - the skin. Your skin is the organ that separates you from the outside world and acts as a selective barrier to keep toxins and harmful microorganisms out. If you're like most people, you do the standard things like cleanse your skin and apply moisturizer but those work on the surface of your skin - what's going on at a deeper level that could undermine the health of your skin?
SKIN HEALTH & DIGESTIVE HEALTH
Keeping your skin healthy is important not only because it serves as a barrier between you and outside environment but because skin problems like acne, eczema, and psoriasis can be uncomfortable and socially embarrassing. So many adolescents, teens, and even adults feel self-conscious and fearful of facing the world when they have an acne outbreak. One element that seems to underlie many skin conditions, including acne, is an overactive natural defense system. Normally, your immune system behaves in a controlled manner and responds appropriately to threats. Sometimes the response gets out of hand, which may lead to tissue damage and the damaged tissue could be your skin.
You might think the two are unrelated, but the health of your skin is closely tied to your digestive tract. This is not a new idea. Over 70 years ago, two researchers named Stokes and Pillsbury proposed that the brain, skin, and gut are interconnected and influence one another. This is supported by research showing people with certain skin conditions, like acne, have a higher incidence of digestive symptoms, including constipation and bloating. A study even showed digestive dysfunction is a risk factor for diseases of the sebaceous glands, of which acne is one type.
The question is how the gut is linked with skin conditions. According to one theory, damage to the thin lining that separates the small intestinal tract from the rest of your body can trigger your body to fight back. The lining of your small intestines is a single layer thick and easily damaged by exposure to toxins, stress, and overgrowth of bacteria that enter from the colon. In addition, millions of people take medications, like ibuprofen, which can damage the delicate lining of the gut. When this happens, proteins and toxins from food can escape through the damaged area and enter the bloodstream.
Once in the bloodstream, the immune system sees these escaped particles as foreign and launches an immune response that could potentially impact any area of the body, including the skin.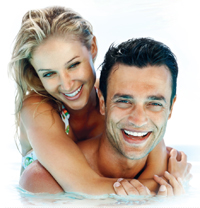 Contributing to this problem is gut dysbiosis, or imbalances in gut bacteria, a deficiency of "good" bacteria or an overgrowth of unhealthy ones. When gut bacteria are in balance, it offers some level of protection to the intestinal tract. Plus, preliminary research suggests gut bacteria support healthy immune function, which should hopefully keep the immune response from escalating to the point of tissue damage.
THE BOTTOM LINE
Topical skin care products, like creams and lotions, are one approach to treating skin problems, but it's also important to look a little deeper at what's happening elsewhere in your body, like your gut. There's mounting evidence that keeping gut bacteria in balance is essential for good health, including the health of your skin.


NATASHA'S HEALTH TIP
"Maintaining a healthy gut may have farther-reaching benefits than we've ever known, including diminishing skin imperfections and promoting clear beautiful skin!"